THE DOUG WHITE QUINTET
The Side Door Jazz Club, Old Lyme, CT - December 27, 2013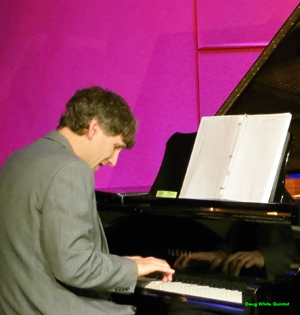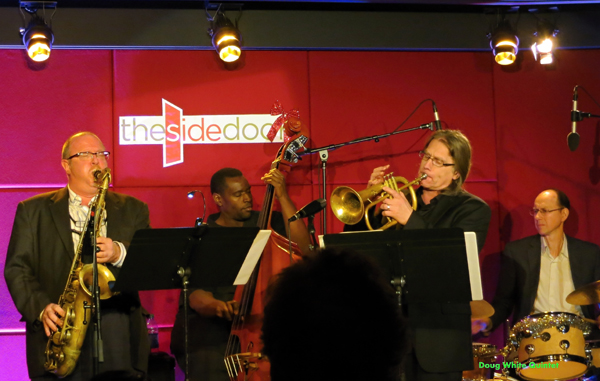 THE DOUG WHITE QUINTET
"SOMETHIN' JAZZ CLUB" December, 2013

The Doug White Quintet
featuring
CHRIS CASEY-piano
PAT CASEY-trumpet & flugelhorn
STEVE PORTER-bass
TIDO HOLTKAMP-drums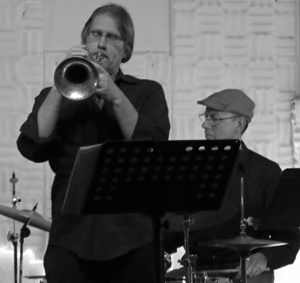 WHITE SILO WINERY September, 2013
The Doug White Quintet
featuring
CHRIS CASEY-piano
PAT CASEY-trumpet & flugelhorn
STEVE PORTER-bass
TIDO HOLTKAMP-drums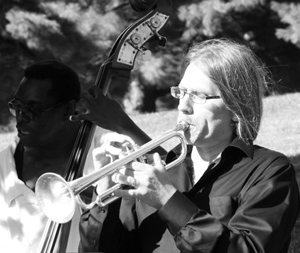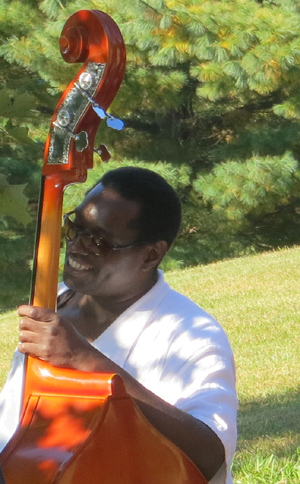 Excerpt from "The One Before This" live at
"SOMETHIN' JAZZ CLUB" June, 2013
The Doug White Quintet
featuring
CHRIS CASEY-piano
PAT CASEY-trumpet & flugelhorn
STEVE PORTER-bass
TIDO HOLTKAMP-drums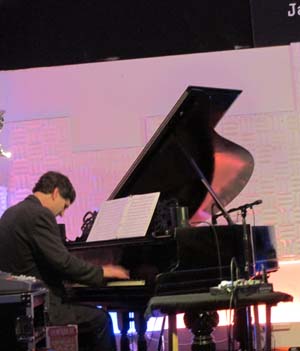 "Ashford and Simpson's Sugar Bar" May, 2013
The Doug White Quintet
featuring
CHRIS CASEY– piano
KEVIN KLEPACKI – trombone
STEVE PORTER – bass
TIDO HOLTKAMP – drums
I SURRENDER DEAR
LIVE AT ASHFORD AND SIMPSON'S SUGAR BAR
DOUG WHITE QUARTET
CHRIS CASEY-PIANO
STEVE PORTER-BASS
TIDO HOLTKAMP-DRUMS
Doug and Chris are featured on this Harry Baris standard-apologies for the poor quality of the bass sound, the microphone was apparently malfunctioning.

---
Below are some videos for your viewing and listening pleasure:
Doug White-tenor sax
Richard Downs-trumpet &flugelhorn
Chris Casey-piano
Steve Porter-bass
Tido Holtkamp-drums
THEIR THING: Doug's new line on the changes of Joe Henderson and Kenny Dorham's " Our Thing " ©2012 DOUG WHITE

---
Doug White-tenor sax
Pat Casey-trumpet and flugelhorn
Chris Casey-piano
Steve Porter-bass
Tido Holtkamp-drums
Bound To Please: Doug's bright little ditty features him, Pat and Chris ©2012 DOUG WHITE


---
Doug White-tenor sax
Pat Casey-trumpet and flugelhorn
Chris Casey-piano
Steve Porter-bass
Tido Holtkamp-drums
Slinky: Doug's new line on the 1920's warhorse, Blue Lou ©2012 DOUG WHITE


---
We are proud to present a video of Doug improvising with dancer/choreographer Rebecca Moore from a performance at Connecticut's The Silo at Hunt Hill Farm

Doug White
Composer, singer, tenor saxophonist featured throughout Europe and the East Coast with legendary singer, Annie Ross, (of Lambert, Hendricks and Ross fame), Doug White, founder of independent jazz record label, Juniper Records, has enjoyed international acclaim at the helm of his own trios and quartets since the early 1970's. Offering a program that ranges from bop to ballads, catchy original material as well as great standards, blues and modern-style improvising, Doug has entertained at New York City's Supper Club, Jubilee, Bubble Lounge, and Rainbow and Stars, London's Pizza On the Park and Green Room along with private engagements in London, Paris and Provence. He has performed at a number of European festivals as well, including Ireland's Guinness Jazz Festival, where he was the subject of a two-hour documentary on RTE television, and has been the subject of profiles on the BBC World Service. In addition, Doug has performed with Milt Hinton; Tommy Flanagan; Joe Puma; and was mentored early in his career in New York by Warne Marsh and Miles Davis. Founder of independent jazz record label, Juniper Records, Doug White's interest in musical composition was sparked by another mentor of his, film composer, Sam Coslow who was a major force in Paramount Pictures during Hollywood's golden era and whose standards are still well known today. Doug recently scored music for the film, American Seagull. He has received favorable reviews from the international media. For example:

"Recommended listening for young tenor saxophone students everywhere... jazz extemporisation on standards leaves no hiding place, and Doug White stands the test very well." --Jack Carter, Crescendo International Magazine.

"... inspired selection of songs ranging from Charlie Parker's "Crazelogy" to Ornette Coleman's "The Blessing." --Hugh Wyatt, New York Daily News.

Bob Harrington in Backstage called Doug's live act, "... the perfect formula... White sings with a smooth, breezy voice... light hearted playful jazz... peppy, exceedingly well played, and vibrant... White croons beautifully and likes to throw in an occasional curve by joking around with his lyrics on the up tempos. But when he sings a ballad like "Embraceable You," or "I Can't Get Started," it comes straight from the heart."

"Mr. White's up tempo treatments of these jazz pieces feature buoyant, skillfully phrased solos that have both substance and charm." --John S. Wilson, New York Times.

"A very solid tenor saxophonist!" Gary Giddins, Village Voice.

Now based in Connecticut, Doug's current band is a quintet featuring some of New England's finest jazz musicians. The Doug White Quintet features pianist Chris Casey; bassist, Steve Porter; trumpeter Pat Casey; and drummer, Tido Holtkamp. "This band," says Doug, "is more than 'Doug with accompaniment,' each member brings their talents and personality to the table." Doug and his group recently performed at New York's Ashford and Simpson's Sugar Bar. They have also performed at CT venues such as G.W. Tavern, Washington Art Association, Roxbury Land Trust, the Silo at Hunt Hill, Sherman Playhouse, VIP dinner for Tea for Two Hundred charity benefit, Main and Hopewell, Tokyo Szechuan, Yale University, the Milltown Tavern, as well as numerous private events. As Paul Lewis, owner of Szechuan Tokyo, says of "Saxman White": "Response to his previous appearance here was overwhelming... best to make reservations!"

Doug White can be heard on iTunes, Rhapsody, CD Baby, dougwhitejazz.com, YouTube channel juniperjazz27, and juniperrecords.com. His CDs, "Esplanade," and "The World of Doug White," have been consistent favorites since their release and are available via Amazon.com and juniperrecords.com.